Nine Eleven History Dot Net
Collections
rolex yacht master everose replica
This page lists information related to institutions' collection of materials connected to the September 11 attacks and their aftermath.
Current Collecting Projects
T his section lists specific projects underway by museums, archives, libraries and other collecting institutions that are seeking to preserve materials from the attacks of September 11 and their aftermath. Institutions are encouraged to list their plans for acquiring materials here – e-mail to [email protected] Those who have materials from this list to donate should inform the particular museum directly.
The New-York Historical Society will embark on a multi-year collecting project that will create the key research collection for students of the World Trade Center attack and life in New York at the time of this events. The World Trade Center collecting project encompasses:
Immediate acquisition for the museum collection of approximately 125 artifacts from the attack, 200 pieces of ephemera, 40 paintings and 100 prints;
Long-term planning and implementation of a research collection for the Society's library, over the upcoming years and decades, of documents, videos and photographs–as they become available–that will illuminate for future historians the World Trade Center attack and life in New York City on September 11, 2001.
The Photographic Resource Center at Boston University (PRC) is calling for work concerning 9/11/01 memorials and use of photographs. The Photographic Resource Center at Boston University (PRC) seeks photographically-based works made in response to, but not necessarily documents of, September 11 memorials (defined in the broadest possible sense) as well as the role of photography in our conception of the events for an exhibition six months later (March 11-April 26, 2002).
This human urge to create 9/11/01 memorials, on an almost installation-like scale, often involves the use of photographs. While memorials play a huge part in many cultures, this phenomenon seemed especially fascinating and involved its own unique symbolic vocabulary. Photographs too play a huge part in our understanding of the tragic event as well as in our on-going healing. This idea was inspired by the sudden and rapid proliferation of memorials and exhibitions. This show itself, as well as the myriad community-based photo projects and exhibitions, can be seen as a form of shrine making.
Anything addressing these larger issues is welcomed. Visitors will be able to add their own mementos and comments to one of the galleries as a part of the exhibition. Especially sought are works of all genres and types involving photographic arts (prints, video, photo-sculpture, and installations) and works that showcase memorials and photographs in addition to those in New York. Although not necessary, work that is from or of the New England area is encouraged. Deadline is January 15, 2002, but earlier submission is greatly appreciated. Please send up to 10 slides, entries on disk or CD (IBM), video (VHS), statement, resume, and pre-mailer for return to:
Leslie Brown, Curator
Photographic Resource Center at Boston University
602 Commonwealth Avenue Boston, MA 02215
617-353-0700 [phone],
617-353-1662 [fax]
[email protected] [email]
www.bu.edu/prc
The New Jersey Historical Society
Oral Histories: The New Jersey Historical Society, in conjunction with the New Jersey Historical Commission, has begun a statewide oral history project related to the events of September 11. So far, we have collected interviews with first responders — including New Jersey's – Task Force 1 Urban Search and Rescue team, firefighters, police officers – New York Waterway employees and its president, members of the US Coast Guard, members of ethnic communities including Sikhs and Palestinians, former Governor Donald T. DiFrancesco, and numerous others. Once the interviews are transcribed they will be deposited at the Historical Society and in Columbia University's Oral History Research Office.
What You Can Do: Although it is too early to know whether our lives have changed – and if they have, to what degree – we are soliciting materials that will eventually help to answer this complicated question. For example, we have all heard about increased security measures that the Port Authority has put in place at Newark Airport and other venues. Other institutions have taken similar precautions. We are interested in receiving documentation – it could be in the form of photographs, fliers or announcements, or any other form that we have not ourselves imagined – that will help to demonstrate such change. We are also interested in receiving materials related to civil liberties, tolerance issues, and education as they are related to 9-11. In building our collection for this portion of our Changed Lives project, we are relying on members of our community to come forth and share with us visually how New Jerseyans' lives have changed. The strength of our collection will come from a truly interactive relationship. We look forward to receiving your contributions and input.
Recent Acquisitions
This section lists notices of material recently acquired by participating institutions. Plans are under discussion to create a centralized database of materials for use by future researchers. Institutions are encouraged to list their recently acquired materials here – e-mail to [email protected]
These are highlights from a list of objects the New-York Historical Society has recently acquired:
*Dust Mask worn on September 11 by Battery Park City resident
Hard-hat and respirator worn by construction worker in the first week after September 11 while assisting with rescue and recovery efforts
In Memory, a Spiral bound book of more than 200 color photographs (color scans) taken by amateur photographer who took pictures of spontaneous memorials, shrines and mourning around the city.
Maquette and drawings for mural by John Loring that hung in WTC
"Get Well" cards to victims of the disaster at Mt. Sinai hospital and messages of hope to the staff sent by school children around the country
Children's artwork (get well cards and messages of hope and thanks) given to fire stations
Assortment of buttons, badges and T-shirts with World Trade Center and flag motifs from fund-raisers and street vendors
*St. Paul's Chapel rescue station memorabilia and artifacts
Printed matter relating to the fall 2001 elections, including the rescheduled primary, originally held September 11
*x Printed matter documenting mass transit issues and rerouting
The Museum of the City of New York is pleased to announced that the Bellevue "Wall of Prayer" has recently entered our custorial care. After necessary conservation to stabilize the Wall, the Museum of the City of New York hopes to be able to offer sections of the "Wall of Prayer" to other museums around the country for exhibition. A virtual article about the "Wall of Prayer" is available at the Museum of the City of New York website
FIRE ENGINE 6, FIRST TO ANSWER THE CALL AT WORLD TRADE CENTER ON SEPTEMBER 11, TO GO ON EXHIBIT AT NEW YORK STATE MUSEUM
Fire Engine 6, the first to respond to the World Trade Center attack, will be preserved at the New York State Museum through the generous cooperation of Gov. George E. Pataki, the New York City Fire Department, the Uniformed Fire Officers Association, the New York Division of Military and Naval Affairs, and the State Department of Corrections. The announcement was made at the State Museum today.
Engine Company 6 was organized in 1756 and by the l860s was known as the Engine 6 Tigers. The Company's quarters are near the World Trade Center site, and because of this Engine 6 had a specially-built pump powerful enough to push water to the top of the 110-story towers. Engine 6 was a first responder on September 11 and stationed itself on West Street at Vesey Street and hooked into the Trade Center standpipe there. That engine was destroyed in the collapse of the North Tower, and has been replaced temporarily by an older engine. The fire engine was removed on February 28, 2002 from the Staten Island landfill with the efforts of the 369th Regiment NY Army National Guard, NYC Police Department, NYC Sanitation Department at Fresh Kills, NYS Department of Corrections staff and a team from the State Museum. The Fire Engine is at an off- site location where it is undergoing contaminant testing, cleaning and preparation for eventual exhibition at the New York State Museum.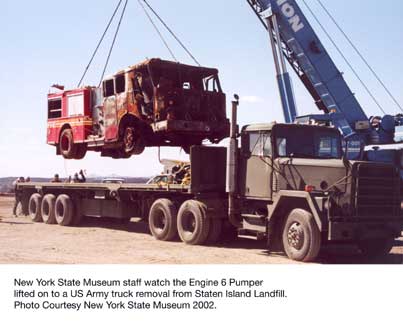 The State Museum team worked for several months with New York City and State agencies to secure the object. The New York State Museum has included several smaller objects removed from the fire engine in the World Trade Center Memorial gallery now on view.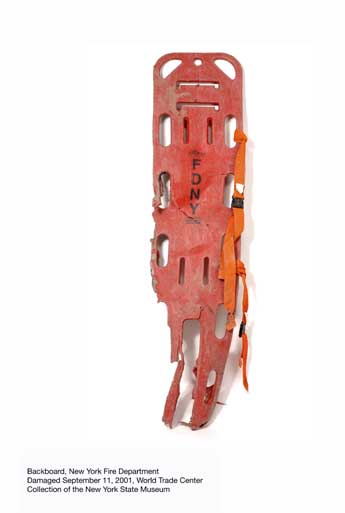 The State Museum is working with a consortium of New York City area museums on the effort to preserve historic material from the World Trade Center. The museum consortium includes The Museum of the City of New York, New-York Historical Society, The New York City Fire Museum, New York State Museum and the NJ Historical Society. These museums, working with the NY Port Authority and City officials are acting to secure and preserve more architectural, rescue, police, fire fighting and personal material.
The New Jersey Historical Society
Changed Lives: Understanding the Aftermath of September 11th, is a statewide project created to record and preserve New Jersey's response to the events of September 11, 2001. The objects and stories that we have collected, beginning in September 2001, will help us to build a framework for understanding its impact on the state. Photographs: We have collected thousands of photographs taken by professional and amateur photographers documenting a range of responses to the tragedy. Our collection includes:
Memorial Shrines
· Photographs taken fire fighters who volunteered their time
· The NJ-Task Force 1 Urban Search and Rescue Team, based at Lakehurst Army Navy Base in Ocean County, NJ, the first search and rescue team to respond to New York on the day of the attacks, donated thousands of photographs documenting their work on the site of the World Trade Center, between September 11 and September 20, 2001.
Printed Materials:
· Copies of "missing" posters
· Banners
· Letters written by school children to rescue workers and political officials
· A myriad of fliers and programs related to a range of public events, including religious services and forums.
· Published materials from NJ-based institutions including UMDNJ and St. Peter's College in Jersey City
· Atlantic Engineering Company in New Jersey, has generously donated maps of the site as well as WTC building plans that were used by NJ-TF1 as well as Federal Emergency Management Agency [FEMA] teams in search efforts.
Objects and Material Culture:
· A uniform worn by a member of New Jersey's Task Force 1 Urban Search and Rescue team
· A National Organization for Victims Assistance (NOVA) worn by a member of the Office of Recovery and Victim Assistance at the Family Assistance Center at Liberty State Park
· An urn with soil from below ground at the WTC site and a military-style folded flag – an exact replica of what was given to each family who lost a loved one in the attack, · A "Ty" teddy bear that was distributed to families of victims by Salvation Army volunteers.
Together, these objects and many others, will help to provide an historical snapshot of the events surrounding September 11, one that will be useful to scholars and researchers in the future.